We steunen Monique weer in haar sportieve bijdrage aan Team Westland op de beklimming van de Tourmalet op 19 juni 2019!
Monique aan het woord:
"Sinds enkele jaren ben ik een enthousiast Team Westland lid.
Ze zeggen weleens "lid zijn van Team Westland ben je niet voor even, maar voor de rest van je leven". Ieder jaar beklimmen we gezamenlijk lopend of per racefiets de Col du Tourmalet. We doen dit om met zijn allen zoveel mogelijk geld op te halen voor Team Westland, wat zij weer doneren via de Goede Doelen commissie aan kanker gerelateerde doelen in de regio. Doelen die via het KWF niet of niet genoeg gesteund worden of het wordt besteed aan een laatste wens van iemand die door kanker getroffen is.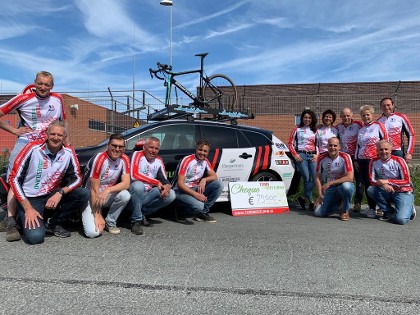 Iedereen wordt direct of indirect geraakt door de ziekte kanker en daarom is het heel mooi om te beseffen, wanneer je zelf gezond bent, dat je een steentje bij kan dragen door geld op te halen en je in te zetten voor dit goede doel. Jaarlijks organiseren wij een sponsoractie door groente- en fruitkisten te verkopen. De gehele inhoud van deze dozen incl. de dozen zelf worden geschonken door westlandse bedrijven en wij pakken deze dan met een groep vrijwilligers in. Dit jaar was dat bij Lievaart Expeditie waar we de loods mochten gebruiken om al deze dozen in te pakken en te distribueren. De volgauto op de foto is ook geheel gesponsord door regionale bedrijven.
Dit alles samen met nog een shirtactie heeft het prachtige bedrag opgeleverd van 79.500,= euro!!!"
U kunt ook zeker uw steentje bijdragen, door te doneren via: https://www.teamwestland.nl/meedoen/deelnemer-sponsoren/